Sonntag 20. Januar 2019 Swing mit Lindy Hop für Anfänger 14:00 - 18:00 VHS Tübingen (please register directly at the "Volkshochschule" Tübingen)
Sonntag 17. Februar 2019 Swing mit Lindy Hop für Anfänger 14:00-18:00 VHS Reutlingen (please register directly at the Volkshochschule Reutlingen)
Samstag 23. März 2019 Swing mit Lindy Hop für Anfänger 14:00-18:00 VHS Reutlingen (please register directly at the Volkshochschule Reutlingen)
Sonntag 26. Mai 2019 Swing mit Lindy Hop für Anfänger 14:00 - 18:00 VHS Tübingen (please register directly at the "Volkshochschule" Tübingen)
Beratung / Information:
Tel. 07071 - 36 88 63 (you might get the answering machine of Tango Dialogo, please leave a message!)
Webmaster: A. S. Böhler, Eugenstr. 41, 72072 Tübingen, Tel. 07071-368863, Mail to Swing
Tango Dialogo
Sprache der Bewegung
Info Tel. 07071 - 36 88 63
Kontakt: Swing
Anfahrt, Büro-/Post-Adresse Kursbeschreibungen Bilder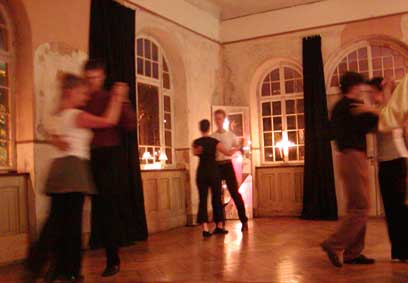 Kurse/Classes: Swing, Lindy Hop, Westcoast Swing, Buenos Aires Jazz, Shag, Balboa, Charleston, Hochzeitsvorbereitung
Engagieren Sie die Lehrerin / rent the teacher
für Privatunterricht für ein Paar oder Guppen bis zu 9 Paaren
mit oder ohne Tanzsaal / room optional.
Tel. 07071 - 36 88 63 (you might get the answering machine of Tango Dialogo, please leave a message!)